TEL: 044-533 3952
FRIDAY TO THURSDAY 2 AUG – 8 AUG
SHADOW DANCER – NPU 16 – 101 MIN
Drama, On the Art Circuit
Weekdays: 11h00 13h10 17h40
Weekend: 15h20 17h40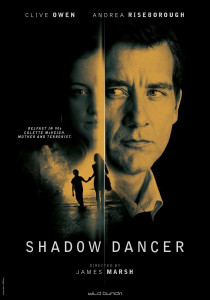 A single mother is a Republican living in Belfast with her mother and hardliner IRA brothers. When she is arrested for her part in an aborted IRA bomb plot in London, an MI5 officer offers her a choice: lose everything and go to prison for 25 years or return to Belfast to spy on her own family. With her son's life in her hands, she chooses to place her trust in the officer and return home, but when her brothers' secret operation is ambushed, suspicions of an informant are raised and she finds both herself and her family in grave danger.
Clive Owen, Andrea Riseborough, Gillian Anderson, Aidan Gillen, Domhnall Gleeson, Brid Brennan, David Wilmot
STAR TREK – INTO DARKNESS – PG 10 – 133 MIN
Action, Adventure
Daily: 11h00 17H20 20h00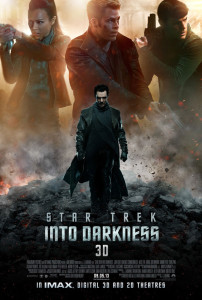 The rebooted sequel has found popular appeal. When the crew of the Enterprise is called back home, they find an unstoppable force of terror from within their own organization has detonated the fleet and everything it stands for, leaving our world in a state of crisis. With a personal score to settle, Captain Kirk leads a manhunt to a war-zone world to capture a one man weapon of mass destruction. As the heroes are propelled into an epic chess game of life and death, love will be challenged, friendships will be torn apart, and sacrifices must be made for the only family Kirk has left: his crew.
Chris Pine, Zachary Quinto, Zoe Saldana, Karl Urban, Simon Pegg, John Cho, Benedict Cumberhatch, Anton Yelchin, Bruce Greenwood
MAN OF STEEL – PG 10 – 143 MIN
Action, Adventure, Fantasy
Daily: 14h00 20h00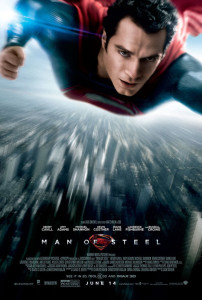 Warner reboots Superman again, with some inputs from Dark Knight wunderkind Chris Nolan. The basic storyline generally follows the expected introductary arc, but the timeline is juggled and there are a few adaptations. With his home planet Krypton about to be destroyed, a father sends his son away in a spaceship, which eventually lands on Earth. A farming couple raises the boy, who gradually learns of his super powers. When grown to manhood, the baddie from Krypton arrives, intent on destroying Earth, and it's up to Superman to see off the threat. Note that this movie is far more violent than previous instalments.
Henry Cavill, Amy Adams, Michael Shannon, Diane Lane, Russell Crowe, Antje Traue, Harry Lennix, Richard Schiff, Kevin Costner