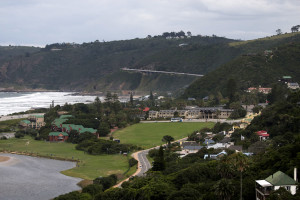 The Wilderness Resort Hotel – one of the Garden Route's oldest hotels – has reopened for business after a hiatus of nearly four years.
A company represented by Mossel Bay businessman and hotelier Albert Wiffen has bought the majority shareholding in the business, which began trading again on the 30th of March. The property was previously known as the Karos Wilderness Resort & Spa.
"The Wilderness Hotel has a grand tradition as a honeymoon destination and a family hotel, and it's still got the old-fashioned charm that made it so popular for so many years," said Mr. Wiffen.
"But it's also a modern hotel with all the facilities you need – many of which were upgraded for the Japanese team, which used the hotel during the 2010 FIFA World Cup."
The 158-bedroom property boasts a large restaurant, two swimming pools , a bowling green, a spa, two tennis courts, and a squash court – as well as a selection of banqueting halls and conference rooms (the largest of which can accommodate up to 300 delegates). The hotel is situated across the road from the historic, thatched Wilderness Anglican Church, which has a long history as a popular wedding venue.
Mr. Wiffen has taken on the role of CEO, while Leon de Kock has been appointed general manager, and Rudolf Kritzinger deputy-GM of the hotel.
"The Wilderness Hotel is situated almost in the very centre of the Garden Route – it's about 45 minute's drive to both Mossel Bay and Knysna, and a little less than an hour to Oudtshoorn in the Klein Karoo, so it's perfectly placed for families who want to explore the area, and also for sports teams and businesspeople," said Mr. Wiffin.
He said that the Southern Cape itself is the greatest attraction for the hotel.
"The Garden Route and Klein Karoo region is a Mecca for sport and adventures, and George – which is only about 10 minute's drive from our front door – is one of the fastest growing cities in South Africa.
"The Wilderness is also situated on the western side of the Garden Route National Park – which stretches all the way to the Tsitsikamma – and it boasts some of the Park's finest attractions, including some of its most popular short walks and trails.   "This makes it a must-see for a number of niche markets – like birders, for example.
"It would be difficult to find any village anywhere that offers the range of habitats that Wilderness does: with its beaches, wetlands, forests, grasslands and rivers, the bird list for the area contains at least 300 species, and you're almost guaranteed some fantastic sightings of kingfishers, Knysna loeries, narina trogons, fish eagles, and many, many others.
"For mountain bikers, we've got the back roads in Wilderness, the Seven Passes Road from George to Knysna, and the fantastic trails just along the N2 at Knysna and Plett to explore – and there are many other interesting, scenic, and sometimes challenging routes in the area.
"And for golfers, of course, The Wilderness Hotel is central to more than a dozen of the country's top courses – including Pinnacle Point in Mossel Bay, Oubaai and Fancourt in George, Simola and Pezula in Knysna, and Goose Valley in Plett."
Mr. Wiffen said that the Wilderness Hotel is expected to appeal to a wide variety of guests.
"We plan to market it as an affordable but up-market destination, and as such we're offering free accommodation to children under 10 years of age, and 50% discounts to children of 11- to 16-years old if they share with their parents. And this applies in most of our rooms – except the honeymoon suites, of course."
The bedrooms are large and spacious: Standard rooms are fitted with twin single beds, Double rooms with king-size beds, and Double Xtra rooms with twin king-size beds. Each family room has four single beds.
"No doubt one of our biggest attractions will be our spa – which also opened this week, and which offers massages, manicures, pedicures, wraps, facials and a heated swimming pool," said Mr. Wiffin.
"It's about total well-being – and that's quite a nice metaphor for The Wilderness Resort Hotel and the Garden Route and Klein Karoo as a whole."
More information: www.thewildernesshotel.co.za Enquiries
The Wilderness Resort Hotel Leon de Kock 044 813 5020 Email: Media Enquiries: Interface by goji
mimi finestone mimi@gojipr.net 084 583 3144 Martin Hatchuel martin@barefootclients.co.za 084 951 0574