PLETT MOVIE HOUSE
TEL: 044-533 3952
FRIDAY TO THURSDAY 26 JULY – 01 Aug
DISCONNECT – NPU 16 – 115 MIN
Drama, On the Art Circuit
Weekdays: 11h00 13h20 17h50
Weekend: 15h20 17h40
Murderball director Henry Alex Rubin explores the destructive potential of the internet in this ensemble drama starring Jason Bateman, Hope Davis, and Alexander Skarsgård. His marriage dissolving before his very eyes, a former Marine (Skarsgård) ruins his credit by gambling online as his wife (Paula Patton) strikes up an intimate relationship on a popular social networking site. When identity theft puts their life savings at risk, the couple tracks down the man (Michael Nyqvust) they believe is responsible for the crime. Meanwhile, an introverted teenage goth (Jonah Bobo) becomes the victim of a humiliating prank when his two biggest tormentors pose as the girl he likes, trick him into exposing his true identity online. When the prank leads to tragedy, the young victim's mother (Davis) is overwhelmed by grief as her husband (Bateman) explodes with rage. Later, an ambitious TV reporter's quest to expose an online prostitution racket has unexpected repercussions for the frightened young man at the center of the growing controversy.
Jason Bateman, Hope Davis, Frank Grillo, Michael Nyqvist, Paula Patton, Andrea Riseborough
MAN OF STEEL – PG 10 – 143 MIN
Action, Adventure, Fantasy
Weekdays: 13h20 17h10 20h00
Weekend: 11h00 20h00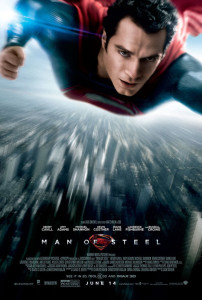 Warner reboots Superman again, with some inputs from Dark Knight wunderkind Chris Nolan. The basic storyline generally follows the expected introductary arc, but the timeline is juggled and there are a few adaptations. With his home planet Krypton about to be destroyed, a father sends his son away in a spaceship, which eventually lands on Earth. A farming couple raises the boy, who gradually learns of his super powers. When grown to manhood, the baddie from Krypton arrives, intent on destroying Earth, and it's up to Superman to see off the threat. Note that this movie is far more violent than previous instalments.
Henry Cavill, Amy Adams, Michael Shannon, Diane Lane, Russell Crowe, Antje Traue, Harry Lennix, Richard Schiff, Kevin Costner
EPIC – PG 10 – 102 MIN
Action, Adventure, Family
Daily: 11h00 13h30 15h50
Epic tells the story of an ongoing battle between the forces of good, who keep the natural world alive, and the forces of evil, who wish to destroy it. When a teenage girl finds herself magically transported into this secret universe, she teams up with an elite band of warriors and a crew of comical, larger-than-life figures, to save their world… and ours.
Voices of Amanda Seyfried, Beyoncé Knowles, Colin Farrell, Josh Hutcherson, Johnny Knoxville, Aziz Ansari, Pitbull, Jason Sudeikis, Steven Tyler, Blake Anderson, Judah Friedlander